 
S2200 G2 AC 2x200W Smart Charger International
S2200 G2 AC 2x200W Smart Charger International
With 2 channels and up to 200W per channel, the Spektrum™ S2200 Smart G2 AC Charger offers fast, easy charging, especially for modelers using Smart batteries — with Auto Charge simplicity, one-connection balancing, IC3® or IC5® output ports, and more.
Key Features

Up to 200W power per channel or 380W on one channel for fast charging
Charges AND balances Smart G2 batteries with one simple IC3® or IC5® connection — no separate balance lead needed
Auto Charge recognizes Smart battery charging parameters and begins safe, accurate charging automatically when connected
Smart software tracks and stores numerous smart battery data
Includes IC3® and IC5® charging output ports — eliminating the need for a separate IC3® or IC5® adapter to charge Spektrum Smart batteries

In The Box

(1) S2200 Smart G2 AC Charger
(1) Power Cord
(1) Manual
The 2-channel S2200 Smart G2 AC Charger — from the new "Generation 2" of Spektrum™ Smart electronics — brings today's most advanced and user-friendly charging technology to RC pilots and drivers of all skill levels.
Features

Up to 200W power per channel or 380W on one channel for fast charging
Charges AND balances Smart G2 batteries with one simple IC3® or IC5® connection — no separate balance lead needed
Auto Charge recognizes Smart battery charging parameters and begins safe, accurate charging automatically when connected
Charges virtually any RC battery (use Smart batteries to benefit from all charger features)
Smart software tracks and stores numerous smart battery data
Includes IC3® and IC5® charging output ports — eliminating the need for a separate IC3® or IC5® adapter to charge Spektrum Smart batteries
Large, 2.8" display screen
An on-screen clock counts down remaining charge time until your Smart battery is fully charged and ready to use

Updated user interface features fresh, intuitive menus, icons and navigation tools, plus non-slip, easy to use buttons
USB input and output ports are included for updating firmware and charging secondary devices
ON/OFF switch eliminates the need to plug in and unplug the power cord for on/off control
Detachable power cord makes transporting more convenient
Includes an efficient, low-noise cooling fan
Sleek, sturdy case fits well on a workbench and in pit or field bags
Handy rubber grips on case make it easier to plug in and remove batteries
IC3® and IC5® connectors are backwards compatible with EC3™ and EC5™ connectors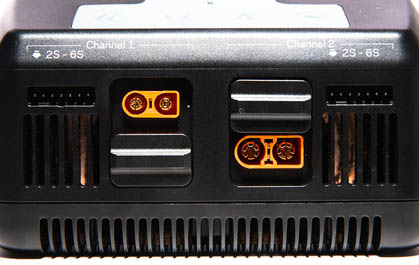 SELECT IC3® or IC5® CHARGING OUTPUT
The Spektrum™ S2200 Smart G2 AC Charger includes IC3® and IC5® output ports for charging your Smart batteries without adapters. Use the slider to select either the IC3® or IC5® port and then charge your battery — at up to 200W power per channel or 380W on one channel for fast charging. You can charge AND balance Smart G2 batteries with one simple IC3® or IC5® connection. No separate balance lead is required.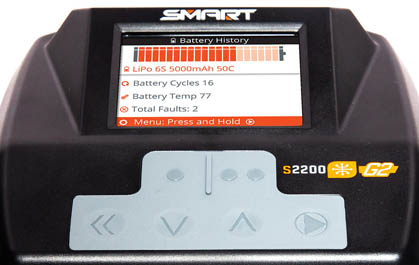 IMPROVED USER INTERFACE
To provide the easiest, most helpful, and most hassle-free charging experience, the S2200 G2 AC charger includes a large, 2.8" display and updated user interface with improved menus, icons, and navigation tools — plus non-slip, easy to use buttons. For maximum safety, simplicity, and charging ease, a new Auto Charge feature recognizes Smart battery charging parameters as soon as you connect your pack and begins proper charging automatically.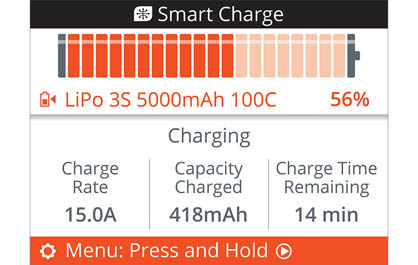 CHARGE TIME REMAINING CLOCK
In real time, a clock on the S2200 G2 AC charger's screen counts down the minutes until your Smart battery is fully charged and ready to be used.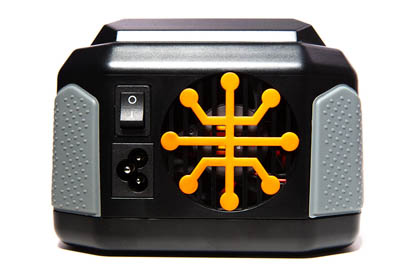 IMPROVED CASE DESIGN
The charger's sleek case fits perfectly on your workbench and in your pit or field bag. Its power cord is detachable for easy transport. Rubber grips help you hold the charger securely while connecting and removing batteries. USB input and output ports enable you to update charger firmware and to charge secondary devices. Other features include a built-in ON/OFF power switch and low-noise cooling fan.
Display     2.8" LCD
Hard Case     Yes
Input Voltage     100 - 240V AC
Maximum Continuous Discharge Rate     1.5A
Product Height     4.13" (105 mm)
Battery Balance Connector     JST_XH
Battery Temperature Monitoring     Yes
Charge Protection Circuitry     Yes
Number of Cells     1 - 6S LiPo, LiIon, LiFe, 1-16 cell NiMH, NiCd, 1-12 cell Pb
Selectable Charge Rate     Yes
Voltage Meter     Yes
Cooling Method     Fan
PC Connectivity     Yes
Programmable     Yes
Safety Timer     Yes
Discharge     0.1 - 1.5A
Maximum Charge Rate     20A
Product Length     5.7" (145 mm)
Reverse Polarity Protection     Yes
Thermal Protection     Yes
Amp Meter     Yes
Application     RC Model Battery Charger
Output     2 x 200W, or 380W on one channel
Integrated Balancing     Yes - Internal Balancer & Internal Adapter
Low Input Voltage Protection     Yes
Normal/Standard Charge Rate     0.1 - 20.0A
Product Width     5.67" (144 mm)
Software Updates     Yes
Technology     Smart
Output Connector     IC3 and IC5 selectable
Peak Detection     Yes
Product Weight     37.7oz (1070g)
Short Circuit Protection     Yes