 
Blackjack 42" 8S Brushless Catamaran RTR
CATAMARAN PROBOAT  BLACKJACK 42"  8S Brushless RTR
Accesorios recomendados
baterias-lipo-4s
Bateria LiPo...
BATERIA SMART LIPO 14.8V  5000mAh 4S 50C Hardcase IC5-EC5 Especial Losi Super Baja Rey
cargadores
Cargador S150...
CARGADOR Spektrum Smart S150 AC/DC 1x50W (EU) CONECTOR EC3 IDEAL PARA MODELOS GRUPO HORIZON HOBBY, ARRMA, LOSI, AXIAL, ETC.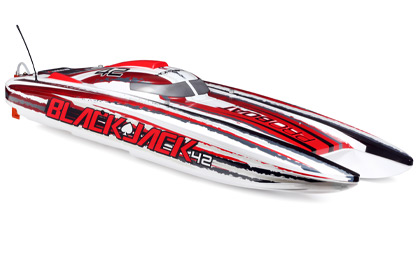 Impact Resistant Polycarbonate Hull
Two piece shoe box construction for extreme hull durability. Molded composite material is much more impact resistant than fiberglass.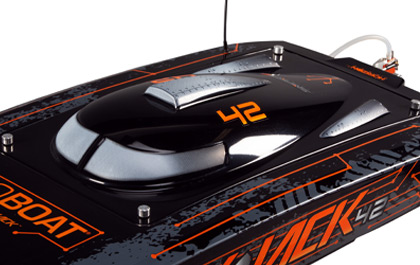 Polycarbonate Canopy
Durable polycarbonate provides a watertight seal and the thumb screws mean no tape is necessary to retain the canopy on to the hull.
Spektrum™ Marine 4685 4 Pole, Water-cooled Motor
Rated at over 5 horsepower with 85%+ efficiency, this powerful 8S capable brushless and waterproof motor provides more than enough torque to hit 55+ MPH.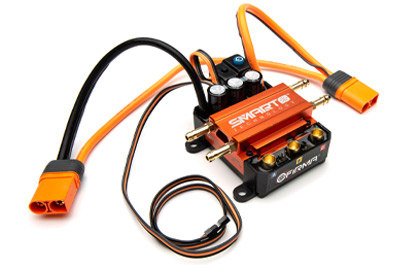 Spektrum™ Smart 160A High Voltage, Water-cooled ESC
Able to handle all the power needed, it is programmable, water-cooled, waterproof, and Smart.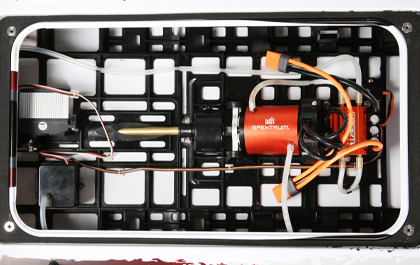 Clean Molded Composite Interior
This adds rigidity and strength to the hull. The interior is wood-free to avoid rot and decay. The grease cup prevents grease from spreading inside.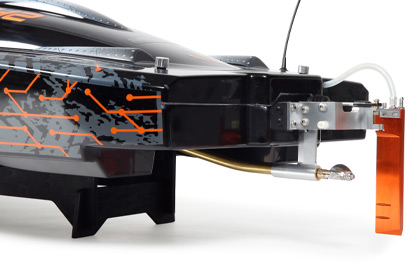 Aluminum Propeller Strut and Rudder
Both the propeller and rudder feature anodized aluminum. The rudder has a special break away feature that protects the hull from damage in case floating debris is struck.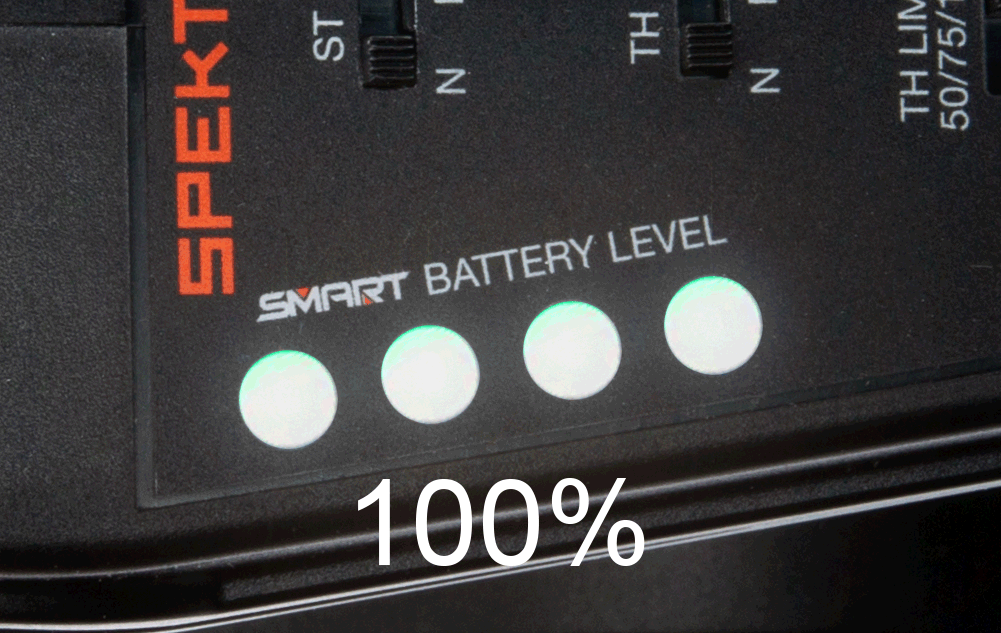 Smart™ Enabled
Never lose sight of your battery capacity when using Smart™ LiPo batteries in the ProBoat Blackjack 42. The included Smart™ Transmitter communicates with the included Smart™ ESC and Receiver to show you the boat's remaining battery capacity on the DX3™.
SR6110AT 6CH Telemetry Receiver
The waterproof receiver ensures an interference free operation.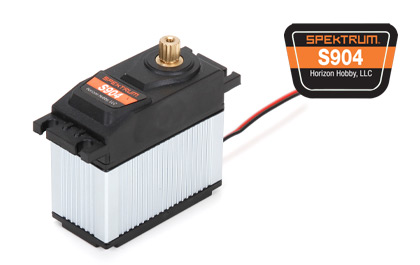 S904 1/6 Scale WP Digital Servo
The high torque digital servo provides all the necessary power. Waterproofing makes sure the servo is up to the task of being in a boat without the risk of failure do to getting wet.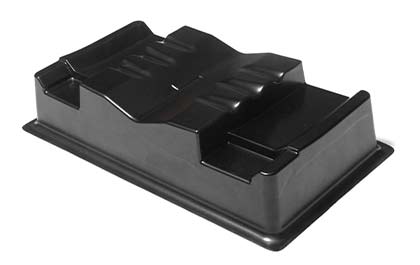 Boat Stand
This custom molded plastic stand fits perfectly to the contour of the hull providing a rock stable platform to display or work on your boat. This boat stand will last for the life of your boat without the need to worry about water rotting a wooden stand.
Product Specifications
Approximate Assembly Time     Less than 1 hour
Battery     Sold Separately
Beam     15.25" (387 mm)
Charger     Sold Separately
Completion Level     Ready-To-Run
Drive System     2-Blade Propeller - Flex Shaft
Hull Height     7.25in (184.15 mm)
Hull Material     2.5mm Polycarbonate, Reinforced With a Full Molded Interior
Motor Size     4985 1350Kv Brushless Water-cooled
Motor Type     Brushless
Product Length     42.75" (1086 mm)
Product Weight     8.95lbs (4.1kg)
Propeller Size     1.7 X 1.6in - 5mm Shaft
Radio     Included
Receiver     Included
Recommended Motor Battery     (2) 4S 5000mAh 50C+ Batteries with IC5 or EC5 Connectors
Speed     55mph+
Speed Control     Included
Steering     Aluminum Single Rudder System
Trim Scheme Colors     Black / Orange or White / Red
Product Details
The Pro Boat® Blackjack™ 42 Brushless 8S Catamaran returns you to the days of large-scale racing taking on all comers with style and speed. Now featuring Spektrum™ Smart, there's no other boat in this size, with this much power, at such an affordable value.
Key Features

    Impact Resistant Polycarbonate Hull
    Clean Molded Composite Interior
    Aluminum Propeller Strut
    Aluminum Rudder
    Polycarbonate Canopy with Aluminum Thumb Screws

In The Box

    (1) Pro Boat® Blackjack™ 42 Brushless 8S Catamaran Boat
    (1) Spektrum™ Marine 4685 4 Pole, Water-cooled Motor (installed)
    (1) Spektrum™ Smart 160A High Voltage, Water-cooled ESC (installed)
    (1) Spektrum™ S904 1/6 Scale WP Digital Servo (installed)
    (1) Spektrum™ SR6110AT 6-Channel Telemetry Receiver (installed)
    (1) Spektrum™ DX3 Transmitter
    (1) Boat Stand
    (1) Product Manual

Needed to Complete

    (2) 4S 5000mAh 50C+ Batteries with IC5 Connectors
    (1) 4S Capable LiPo Charger
    (1) LiPo Safe Charging Bag
Features

    Impact Resistant Polycarbonate Hull
    Polycarbonate Canopy with Aluminum Thumb Screws
    Spektrum™ Marine 4685 4 Pole, Water-cooled Motor
    Spektrum™ Smart 160A High Voltage, Water-cooled ESC
    Clean Molded Composite Interior

    Aluminum Propeller Strut
    Aluminum Rudder
    Spektrum™ DX3™ Transmitter
    Spektrum™ SR6110AT 6-Channel Telemetry Receiver
    Spektrum™ S904 1/6 Scale WP Digital Servo

Overview

The Pro Boat® Blackjack™ 42 Brushless 8S Catamaran is a return to the days of large-scale racing boats taking on all comers with style and speed. The 8S-rated Spektrum™ 160A High Voltage, water-cooled, Smart™ electronic speed controller works tirelessly to power the Spektrum™ Marine 4685 4 Pole, water-cooled motor which is capable of producing up to 5.3 horsepower and hitting 55+ MPH! There is no other boat in this size, with this much power, at such an affordable value. Of course, everything is controlled by the Spektrum Smart™ System making this speed demon incredibly intelligent. A Spektrum DX3™ Transmitter and waterproof SR6110AT 6-Channel Telemetry Receiver keeps everything tightly connected for an interference free operation with built-in telemetry. The Blackjack also features an impact resistant polycarbonate hull, polycarbonate canopy with aluminum thumb screws, a clean molded composite interior, and an aluminum rudder and propeller strut. Lay your cards on the table and make the lake your own with the Pro Boat Blackjack 42 Catamaran